What is the Sheep's Pen? Click Here

Latest News
12/23/07 - Testing an update for the first time in two years!
2/5/05 - I just added a new PBY-5A African skin originally made by 3dp and modified by =V67= Darky over on the skins page. It's Brian's first skin ever so head over and grab it now!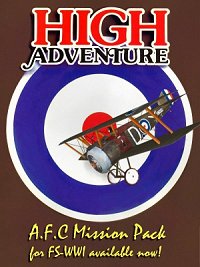 1/17/05 - Today FlyXwire sent in his Australian Flying Corps. mission pack which takes place during the last year of The Great War. It's meant for primarily for online play, but can also be used offline. Go grab it over on the campaigns page!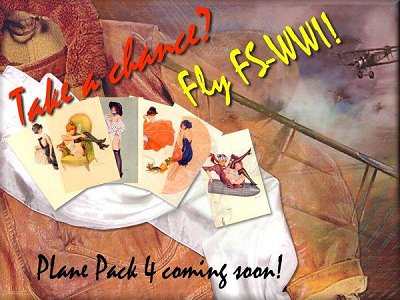 1/05/05 - Happy New Year to all, looks like The Sheep's Pen has made it another year and SDOE is still thriving! The much anticipated FS-WWI Plane Pack 4 was released on Christmas day and you can get all of the latest files over on my WWI OLS page. The latest addition of the WWI mod sports some amazing new additions to change the GUI from WWII to a complete WWI look along with WWI era music! The flight models on many aircraft have been reworked to their most accurate yet, and the Somme terrain has been completely repainted and looks amazing! ArgonV also packaged up all the modding tools you need to get involved with plane building and I've posted that file over on the Tutorials page. Sadly Wings with Wires is closing down so many of our files have to be shifted around, I will be updating everything I can within the next few days and hopefully most links will be up and working soon. And last but not least the above promo is by master artist FlyXwire ;) whose skinning work is included within the latest WWI plane pack. So what are you waiting for, go grab it already!!!!
12/1/04 - We'll I'm finally back online after my main computer with all my website files went down. I had to rebuild almost the entire thing, but amazingly my hard drive was preserved and I didn't have to rebuild my site from scratch. Wat32 had sent me two new skins before my PC crash and now I'm finally able to get them hosted. So head over the the skins page and grab Wat32's new desert camo Bf-110 C5 and his Texas Long Horn P-40 Skin. Be sure to check my message board for full size photo's of his skins.
10/9/04 - Wat32 has released his latest skin today, a Hi Res 109K4. Go grab your own copy on the Skins Page and check out a full sized screenshot over at my Message Board. Wat32 will be releasing a new skin shortly so check back at the message board for another update in the next few days. Addition: Just added Wat32's new HI Res Me410 Skin.
9/13/04 - I finally got around to adding something to the Sheep's Pen that I intended to do months ago! So without further Ado, I present The Sheep's Pen Message Board. It only has a few categories to start with, covering SDOE and IL2 which is the other main flight sim I fly, so feel free to drop in, ask a question, talk about flight sims, or make a suggestion! I'll be adding more categories to the forums in the future and it might become a place to discuss other simulations and games in addition to Open Plane and SDOE.
6/11/04 - Been a while since the last update but we have a few today. A new version of nations (3.5) was released by HBomb a while back and its now been added to the WWII OLS page. This finally adds Finland as a nation to SDOE. The Legacy plane packs update Version 2 has also been released and I've added it at the bottom of the WWII aircraft section on the Individual aircraft page. Jeeves has released the first ever campaign for LDOR and it can be downloaded on the Campaigns page. And last, I added a beautiful Hi Res P-39 skin by Wat32 to the Skins page about a month ago but never got to mention it in my update here. So go over and check it out!
4/30/04 - A few days ago the biggest and most anticipated release for SDOE in years came out, LDOR - The Last Days of the Reich! The aircraft are based on real aircraft that were conceptual or actually built during the war, but didn't get a chance to enter into combat. These aircraft represent a "what if" post 1945 scenario. Not only that but these aircraft are all beautifully constructed with hi res skins and innovations the likes of which have never been seen. So head over to the Individual Aircraft page and download this plane pack ASAP!
4/16/04 - Bunch of updates for today. I've added the new Albatross D.III and the new Sopwith Camel to the Individual Aircraft Page. Both of these aircraft are truly incredible, but the new Albatross D.III is possibly the most beautiful aircraft constructed to date! I've also added 4 new WWI screenshots to the Screenshots page, including one 800x600 shot of the Albatross D.III and its incredible engine details. So go download these new kites and get flying!
4/01/04 - Revamped the FAQ page so it's hopefully easier to use and added a new skin installation tutorial to it. I also added another 109G6 skin by Wat32 over on the Skins page!
3/28/04 - Major Hippie has released his much anticipated

Action Pack Version 1 containing 500 WWII missions, so grab your copy on my Campaigns page now! Wat32 is at it again and just released a brand new Hi Res 109G5 skin that you can grab over on my Skins page. FS-WWI online flying is making a return and after a great turn out last weekend, FlyXwire is organizing another online event for April 3rd. Get the details Here, scarf and goggles are optional.
3/19/04 - VDU just released the latest patch for SDOE, the 1.6.0.6 patch. Download the self installing version here, or grab the zip file version if you are an SDOE veteran and want a quick upgrade here. Read about the improvements in this update patch over at the OPS Forums!
3/06/04 - I just added a new Skins section to the website and am currently hosting five of Wat32's excellent Hi-Res WWII skins. The campaigns page has

two new WWI campaigns added, and a new WWII campaign and I got the screenshots page working once again! I also want to point out to everyone that the Last Days of the Reich plane pack, containing Axis wonder weapons, is moving closer to release and you can get the latest news and updates from the LDOR website.
3/03/04 - Good News the Sheep's Pen is nearly back to working order. I've updated all the critical links, the WWI and WWII online standards are now up to date. I also updated the Legacy packs over on the individual aircraft page to the latest version 2. Now I feel that I should describe what happened to SDOE since the Sheep's Pen went down in August. The Open Plane Sims site went down and this led to us moving over to the Base Pack forums designed by Moe. These forums were a good home for us, but then Snick was able to conduct a war bonds drive and get our old Open Plane forums back! Note that the address has a minor change, there is no longer an s at the end. You can catch us over at Openplanesim.com now! Snick also secured the old Fightersquadron.com link for us, so you can also reach the forums by that address. SDOE never died, so don't worry, we may have problems but the community always toughs it out.
3/02/04 - The Sheep's Pen has been inactive for a long time due to severe problems with Microsoft FrontPage and my ability to upload to the server. I am in the process of rebuilding the site completely so sections may be down, and may not function properly for a few days. However the final result will be a working and updated site. So please bear with me during this "reconstruction process." Thanks - Blacksheep

Comments/Questions Contact me Here



FastCounter by bCentral

Website designed and maintained by
=V67=Blacksheep


Activision is a registered trademark and Fighter Squadron: The Screamin' Demons Over Europe is a trademark of Activision, Inc.© 1998 Activision, Inc. Parsoft is a trademark of Parsoft Interactive. All rights reserved. All other trademarks and names are the properties of their respective owners.