Campaigns
This page contains various mission packs, training missions and quick missions for WWI and WWII. If you have any mission packs you'd like hosted send them to me Here and I'll try and get them up.
WWI Campaigns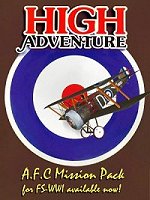 Australian Flying Corps. Mission Pack - The pack contains six missions based on authentic encounters of No. 2 & No. 4 Squadrons Australian Flying Corps during the last year of the Great War, and although the scenarios are designed primarily for online use, they are scripted so that they can be played single-player too. The missions take place over the Somme battlefield, with one winter encounter requiring the Snowy Somme terrain map be installed. There's also a readme text in the zip folder that provides a few additional notes and installation instructions (do check it out)


1916 British and German Mission Pack - This pack made it into final release during the time that Sheep's Pen was down! This mission pack was worked on by Chaps and myself for months, but includes the work of dozens of SDOE community members. There are tons of missions and a great story line, so definitely grab this.
1916 French and German Pack - These are the same 1916 missions, except altered by Chaps to be French vs. Germans instead of English vs. German.
Tales of the Lafayette - Fly 16 missions as the American forces in France before the USA officially entered the war. By Major Hippie
WWII Campaigns
He-111 Campaign - This campaign is by Himdog and is the first campaign for our new He111 that I know of. Pack also contains training missions!
B-17 Campaign - An excellent campaign by Raider and brought up to base pack standards by Himdog. This pack includes B-17 engine sounds, black and white maps and MS word mission briefings. Be sure to read the readme that comes with this zip file.
Action Pack Version 1 - This mammoth mission pack by Major Hippie took a year to produce and contains 77 single player missions, 175 multiplayer missions, 237 scramble missions and 11 mission Easter Egg! 500 missions Total! Get it now and have months or years worth of fun!
LDOR - Normandy - This alternate history campaign by Jeeves uses the latest LDOR plane pack and takes you through an alternate D-Day, where the Axis forces had amazing wonder weapons. Are these new Axis weapons strong enough to change the fate of the largest invasion fleet in all history? Download it to find out!